Het kon ook niet anders dan dat ik een aantal boeken zou krijgen voor mijn verjaardag. 4 januari ben ik 25 geworden en 6 januari vierde ik het. Deze boeken kreeg ik voor mijn verjaardag!
Ik kreeg 3 boeken en 2 boekenbonnen. Natuurlijk moesten deze boekenbonnen zo snel mogelijk ingewisseld zijn. Stiekem ben ik het type die de bonnen laat liggen & ze vervolgens totaal vergeet. Eh, oops? Dus de volgende dag ben ik meteen naar de boekhandel gegaan om er boeken van te halen.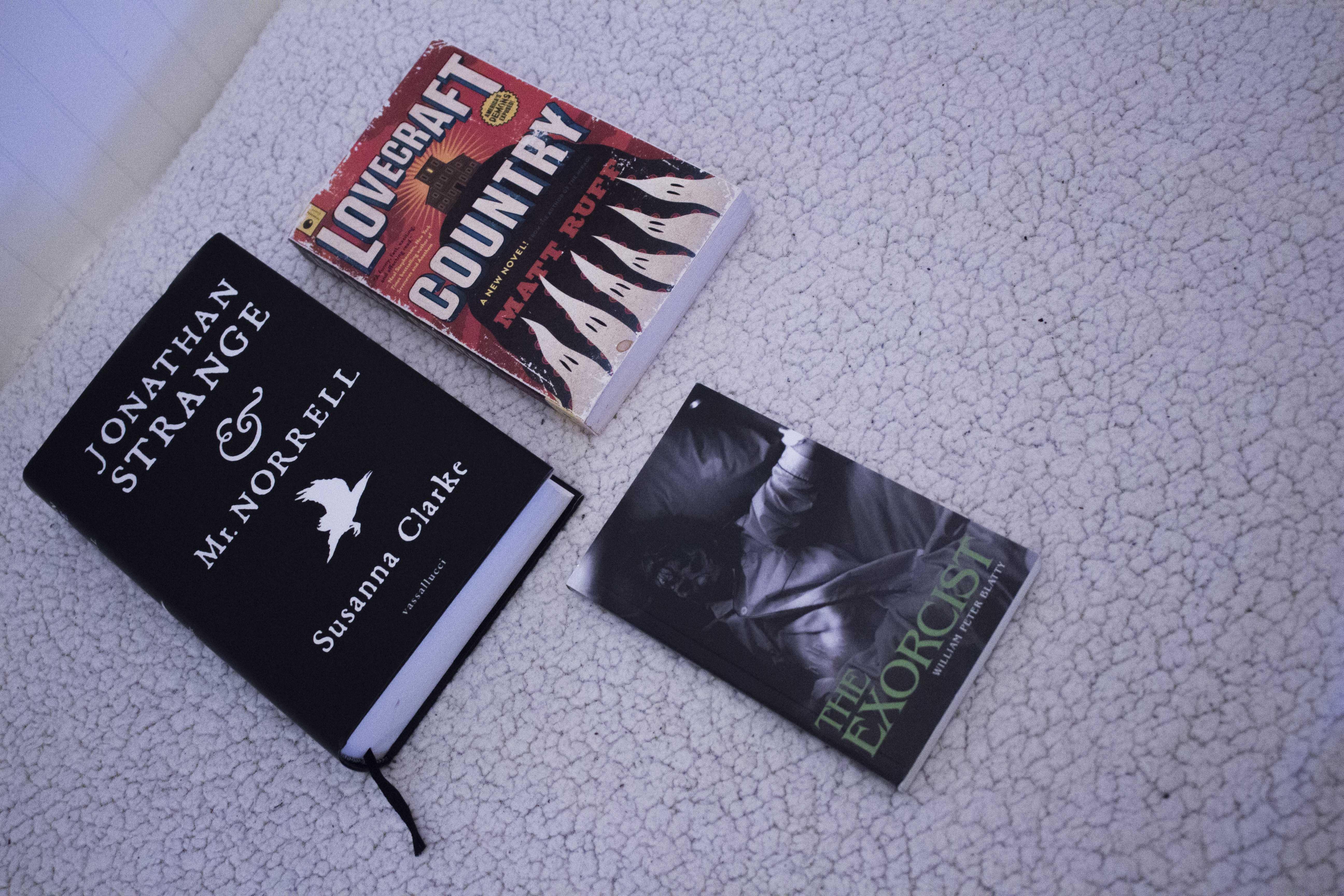 Jonathan Strange & MR. Norrell door Susanna Clarke
Sophisticated, witty, and ingeniously convincing, Susanna Clarke's magisterial novel weaves magic into a flawlessly detailed vision of historical England. She has created a world so thoroughly enchanting that eight hundred pages leave readers longing for more.
English magicians were once the wonder of the known world, with fairy servants at their beck and call; they could command winds, mountains, and woods. But by the early 1800s they have long since lost the ability to perform magic. They can only write long, dull papers about it, while fairy servants are nothing but a fading memory.
But at Hurtfew Abbey in Yorkshire, the rich, reclusive Mr Norrell has assembled a wonderful library of lost and forgotten books from England's magical past and regained some of the powers of England's magicians. He goes to London and raises a beautiful young woman from the dead. Soon he is lending his help to the government in the war against Napoleon Bonaparte, creating ghostly fleets of rain-ships to confuse and alarm the French.
All goes well until a rival magician appears. Jonathan Strange is handsome, charming, and talkative-the very opposite of Mr Norrell. Strange thinks nothing of enduring the rigors of campaigning with Wellington's army and doing magic on battlefields. Astonished to find another practicing magician, Mr Norrell accepts Strange as a pupil. But it soon becomes clear that their ideas of what English magic ought to be are very different. For Mr Norrell, their power is something to be cautiously controlled, while Jonathan Strange will always be attracted to the wildest, most perilous forms of magic. He becomes fascinated by the ancient, shadowy figure of the Raven King, a child taken by fairies who became king of both England and Faerie, and the most legendary magician of all. Eventually Strange's heedless pursuit of long-forgotten magic threatens to destroy not only his partnership with Norrell, but everything that he holds dear.
The Exorcist door William Peter Blatty
Four decades after it first shook the nation, then the world, William Peter Blatty's thrilling masterwork of faith and demonic possession returns in an even more powerful form. Raw and profane, shocking and blood-chilling, it remains a modern parable of good and evil and perhaps the most terrifying novel ever written.
Lovecraft Country door Matt Ruff
The critically acclaimed cult novelist makes visceral the terrors of life in Jim Crow America and its lingering effects in this brilliant and wondrous work of the imagination that melds historical fiction, pulp noir, and Lovecraftian horror and fantasy
Chicago, 1954. When his father Montrose goes missing, twenty-two year old Army veteran Atticus Turner embarks on a road trip to New England to find him, accompanied by his Uncle George—publisher of The Safe Negro Travel Guide—and his childhood friend Letitia. On their journey to the manor of Mr. Braithwhite—heir to the estate that owned Atticus's great grandmother—they encounter both mundane terrors of white America and malevolent spirits that seem straight out of the weird tales George devours.
At the manor, Atticus discovers his father in chains, held prisoner by a secret cabal named the Order of the Ancient Dawn—led by Samuel Braithwhite and his son Caleb—which has gathered to orchestrate a ritual that shockingly centers on Atticus. And his one hope of salvation may be the seed of his—and the whole Turner clan's—destruction.
A chimerical blend of magic, power, hope, and freedom that stretches across time, touching diverse members of one black family, Lovecraft Country is a devastating kaleidoscopic portrait of racism—the terrifying specter that continues to haunt us today.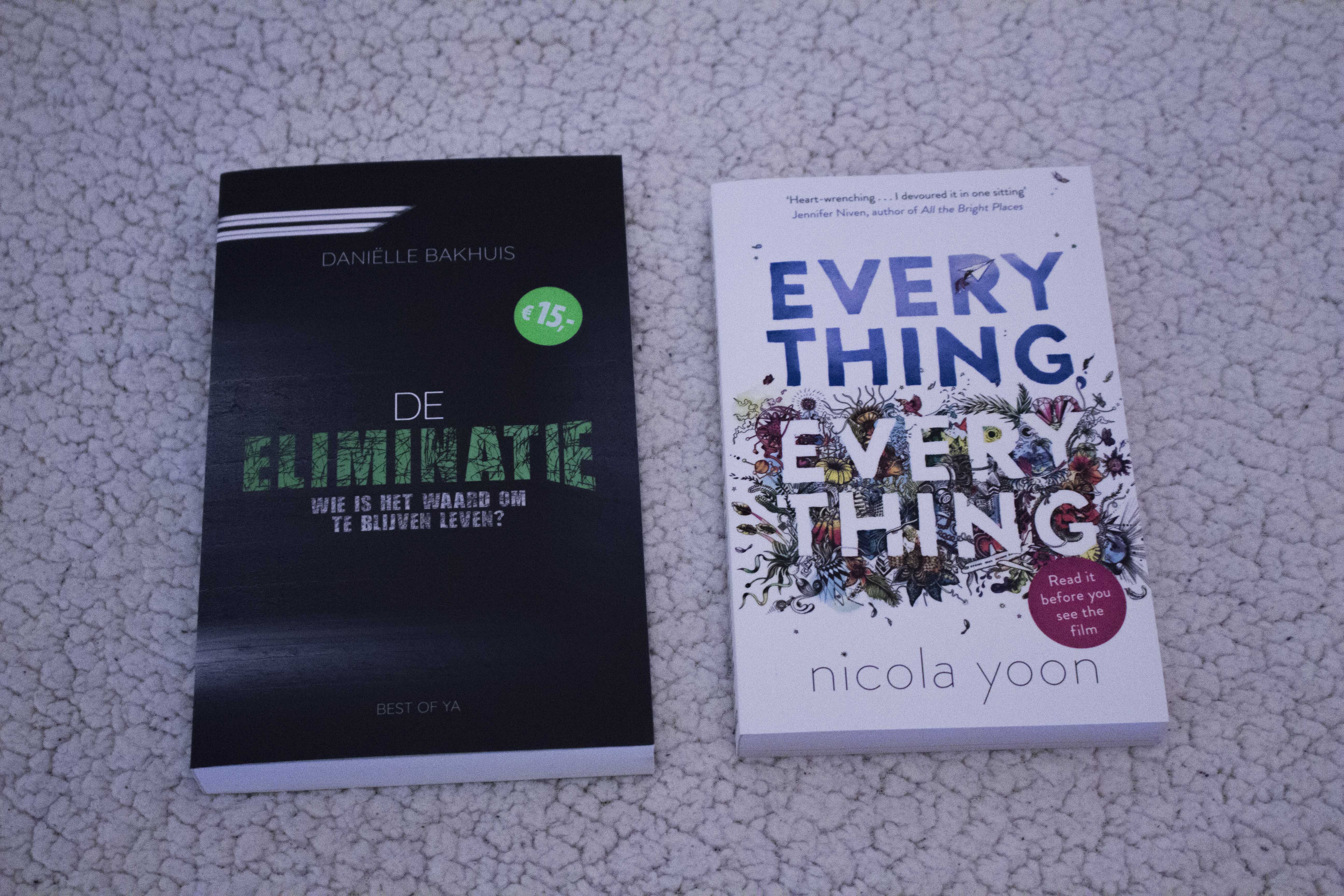 Ik had voor 25 euro aan boekenbonnen gekregen. Daarvan heb ik deze twee gehaald!
De eliminatie door Daniëlle Bakhuis
Over de hele breedte van de muur zijn gifgroene letters opgelicht. Met elke tel zwelt het groen feller aan totdat het een zachte gloed de ruimte in werpt en nalaat op op onze gezichten. Ik lees de woorden op de muur één, tien, honderd keer, maar ze krijgen geen betekenis in mijn hoofd.
ELIMINEER DE HELFT OM DE ANDEREN TE LATEN LEVEN.
Ik kijk naar de andere personen en voel mijn huid in een harnas veranderen. Ik kan niet dood. Ik mag niet dood. Ik heb nauwelijks geleefd. Wanneer de zestienjarige Chleo van Doren wakker wordt in een vochtige garage weet ze meteen dat het mis is. Ze is opgesloten met negen anderen, waaronder een junk, een oude man in een rolstoel en een baby. Elimineer de helft om de anderen te laten leven, luidt de boodschap. Maar hoe overtuig je anderen ervan dat je de moeite waard bent, als je dat zelf eigenlijk niet vindt?
Everything Everything door Nicola Yoon
My disease is as rare as it is famous. Basically, I'm allergic to the world. I don't leave my house, have not left my house in seventeen years. The only people I ever see are my mom and my nurse, Carla.
But then one day, a moving truck arrives next door. I look out my window, and I see him. He's tall, lean and wearing all black—black T-shirt, black jeans, black sneakers, and a black knit cap that covers his hair completely. He catches me looking and stares at me. I stare right back. His name is Olly.
Maybe we can't predict the future, but we can predict some things. For example, I am certainly going to fall in love with Olly. It's almost certainly going to be a disaster.
Daarnaast heb ik natuurlijk ook gewoon een hele leuke verjaardag gehad! We hebben het zaterdag met vrienden gevierd (Donderdag is er wat familie langsgekomen). We hebben vooral veel gekletst en natuurlijk veel gelachen. Ik ben erg blij met wat ik voor mijn verjaardag heb weten te scoren