Dit is zo'n grappig boekje die je ooit eens voor de lol koopt en die vervolgens dan jaren in je kast ligt. In iedergeval, dat was zo bij mij het geval. Dus het leek me leuk hem eindelijk eens te lezen!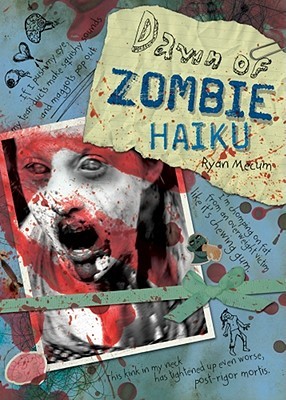 Auteur: Ryan Mecum
Uitgever: F+W Media, Inc
Genres: Poetry, Horror
ISBN: 9781440312861
Uitgave: Softcover
Prijs: € ??
Rating: 6/10
Some race. Some lurch. Others come crawling, limping, staggering—dragging themselves toward anyone who might still have a pulse. Zombies invade the island of Manhattan, and they are hungry.

The story of the zombie apocalypse is told through the eyes of Dawn, a ten-year-old girl who has been well-schooled in the undead because of her father's love of zombie movies. As the zombies approach, Dawn and her dad realize the time has come to implement their Zombie Escape Plan, so they gather friends and escape to the Statue of Liberty.

Only… the plan doesn't go quite as expected. Dawn documents their downfall in her haiku journal, where the limb-snapping, eye-popping, bone-crunching zombies eventually make her one of their own. In gory detail, and sometimes channeling her favorite poets, she describes the gruesome scenes before her—and her own frightening impulses.
Mijn Mening
Laten we zeggen dat dit een van de meest vreemde boeken is die ik ooit heb gelezen. Het gaat over een meisje die leeft in een wereld waar zombie's een ding zijn. Dit schrijft ze op in een boek, maar dan in de vorm van Haiku's. Laten we voorop stellen dat ik precies niks weet over Haiku's.

Toch vond ik dit boek ontzettend leuk om te lezen. Het was geen hoogstandje, maar dat kan je er ook niet echt van verwachten. Hij was vermakelijk en heerlijk om zo tussendoor te lezen. Vooral nu dat ik midden in een leesdip zit.