Hij is een beetje laat (een beetje heel erg laat), maar toch wilde ik hem online zetten! Hier is de Mei Wrap-up! Dit zijn alle boeken die ik in de maand Mei heb gelezen en ik had bést een goede leesmaand!
Goedzo en de Zoeker door Gerd Goris
Op een dag krijgt de eenvoudige huisknecht Goedzo van zijn meester de opdracht naar de stad Zonnaven te reizen en daar zo snel mogelijk met de koning te spreken. De weg naar Zonnaven blijkt echter gevaarlijker dan gedacht. Een bende criminelen zit achter hem aan en hulp moet uit een onverwachte hoek komen om de eenvoudige huisknecht te redden.
Het toeval wilt echter dat hij achter een vreselijk plan komt dat het gehele koninkrijk naar de rand van de afgrond kan brengen. Samen met de koning, zijn magisch begaafde dochter Mira, de jonge vechtjas Joris en de dronkaard Kantatis zijn ze gedwongen om te vluchten voor de macht van de Leugen en zijn trawanten.
De enige hulp om deze groeiende macht te breken, lijkt die van een koppige waterdraak te zijn.
Het gif van de Leugen verspreidt zich echter razendsnel onder de bevolking en heeft nagenoeg iedereen al in zijn ban. Zullen Goedzo en zijn vrienden in staat zijn om deze verschrikkelijke vijand te verdrijven zonder zelf ten onder te gaan?
Schimmenlied door Lynn Robin
De zeventienjarige Lily rouwt na een half jaar nog steeds om haar vriendje, Mason, die is omgekomen in een auto-ongeluk. Ze deden alles samen. Met hem kon ze muziek maken als met geen ander.
Ze wil hem terug.
Door een ouijabord te gebruiken probeert ze contact met hem te leggen – maar in plaats daarvan opent ze een poort.
De poort naar de Schimmenwereld; de wereld tussen leven en dood, het rijk van geesten, engelen en demonen.
Een engel vertelt haar dat Mason gevangen zit in het Schimmenmeer en dat Lily de enige is die hem kan helpen te ontsnappen.
Opgejaagd door een demon die hoe dan ook wil voorkomen dat ze Mason met zich mee terugneemt en haar herinneringen aan Mason haar enige leidraad, zoekt Lily zich een weg door de Schimmenwereld.
Het is aan haar of ze er nog levend uit zullen komen.
13 Reasons Why door Jay Asher
Clay Jensen returns home from school to find a strange package with his name on it lying on his porch. Inside he discovers several cassette tapes recorded by Hannah Baker–his classmate and crush–who committed suicide two weeks earlier. Hannah's voice tells him that there are thirteen reasons why she decided to end her life. Clay is one of them. If he listens, he'll find out why.
Clay spends the night crisscrossing his town with Hannah as his guide. He becomes a firsthand witness to Hannah's pain, and as he follows Hannah's recorded words throughout his town, what he discovers changes his life forever.
Geheim Akkoord door Marieke Simons
Als Aisling in een opwelling besluit om op zoek te gaan naar haar verleden, wordt ze herenigd met haar oude buurjongen Thomas. Ze trekt bij hem in en hun vriendschap gaat verder vanaf het punt waar het ooit abrupt stopte.
De muzikale ambities van haar beste vriend zijn onveranderd gebleven. Vanaf de zijlijn geniet Aisling van het beginnende succes van Thomas en zijn band.
Niets lijkt hen in de weg te staan, totdat Thomas' aartsvijand letterlijk op het podium verschijnt. Deze intrigerende jongen brengt meer aan het wankelen dan alleen de zorgvuldig bewaarde geheimen.
Dagboek op Doktersrecept door Marijn van Zomeren
Het verhaal speelt zich af rondom de hoofdpersoon Johan die tien jaar na de zelfdoding van zijn moeder en oom terugkeert naar zijn geboortedorp. De nachtmerries die hij eerder had achtergelaten, keren in alle hevigheid terug. Letterlijk. Hij ziet nog één uitweg om niet zo te eindigen als zijn moeder: een afspraak met Van Praag, zijn vroegere psycholoog. Johan wordt door zijn therapie en nachtmerries gedwongen terug te gaan naar de tijd die hij zelf verdrongen heeft. De genadeloze confrontatie in zijn dromen legt hij voor aan Van Praag, die echter alleen hoort wat hij wil horen. En dan verliest Johan langzaam de grip op de realiteit. En is het aan de lezer om te ontdekken wat waar is en wat niet. Zinnig of krankzinnig?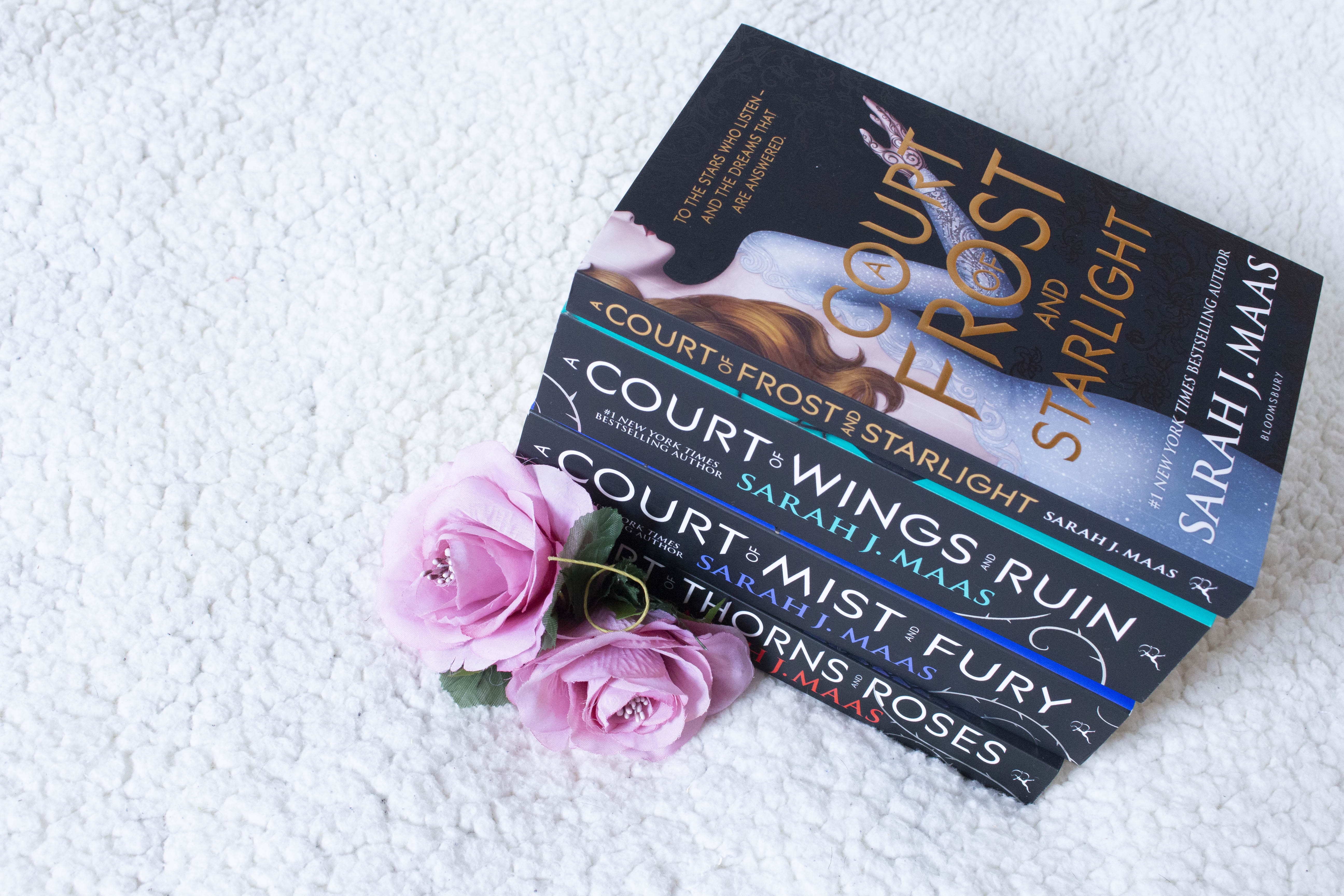 A Court Of Thorns and Roses door Sarah J. Maas
Feyre's survival rests upon her ability to hunt and kill – the forest where she lives is a cold, bleak place in the long winter months. So when she spots a deer in the forest being pursued by a wolf, she cannot resist fighting it for the flesh. But to do so, she must kill the predator and killing something so precious comes at a price …
Dragged to a magical kingdom for the murder of a faerie, Feyre discovers that her captor, his face obscured by a jewelled mask, is hiding far more than his piercing green eyes would suggest. Feyre's presence at the court is closely guarded, and as she begins to learn why, her feelings for him turn from hostility to passion and the faerie lands become an even more dangerous place. Feyre must fight to break an ancient curse, or she will lose him forever.
A Court of Mist and Fury door Sarah J. Maas
Feyre survived Amarantha's clutches to return to the Spring Court—but at a steep cost. Though she now has the powers of the High Fae, her heart remains human, and it can't forget the terrible deeds she performed to save Tamlin's people.
Nor has Feyre forgotten her bargain with Rhysand, High Lord of the feared Night Court. As Feyre navigates its dark web of politics, passion, and dazzling power, a greater evil looms—and she might be key to stopping it. But only if she can harness her harrowing gifts, heal her fractured soul, and decide how she wishes to shape her future—and the future of a world cleaved in two.
With more than a million copies sold of her beloved Throne of Glass series, Sarah J. Maas's masterful storytelling brings this second book in her seductive and action-packed series to new heights.
A Court Of Wings and Ruin door Sarah J. Maas
Looming war threatens all Feyre holds dear in the third volume of the #1 New York Times bestselling A Court of Thorns and Roses series.
Feyre has returned to the Spring Court, determined to gather information on Tamlin's manoeuvrings and the invading king threatening to bring Prythian to its knees. But to do so she must play a deadly game of deceit – and one slip may spell doom not only for Feyre, but for her world as well.
As war bears down upon them all, Feyre must decide who to trust amongst the dazzling and lethal High Lords – and hunt for allies in unexpected places.
A Cour Of Frost and Starlight door Sarah J. Maas
Feyre, Rhys, and their close-knit circle of friends are still busy rebuilding the Night Court and the vastly-changed world beyond. But Winter Solstice is finally near, and with it, a hard-earned reprieve.
Yet even the festive atmosphere can't keep the shadows of the past from looming. As Feyre navigates her first Winter Solstice as High Lady, she finds that those dearest to her have more wounds than she anticipated–scars that will have far-reaching impact on the future of their Court.
Ik heb dus negen boeken in totaal gelezen en dat is bijna mijn record (die staat op 10). Welke boeken heb jij in de maand Mei gelezen?