Niet te geloven hoe snel deze maand is gegaan. En daarmee ook weer een nieuwe boeken koop maand. Dit is alles wat ik deze maand heb gekocht! Oh en een leuke verassing! Dit keer zit er ook een video bij!
Ik ben vanaf vorige week Zondag begonnen met mijn eigen Boektube, om mijn boekenblog mee uit te breiden! Mijn eerste video was de vlog van YALfest. Maar ik heb natuurlijk ook een Haul video gemaakt!
A Court Of Mist and Fury door Sarah J. Maas
Feyre survived Amarantha's clutches to return to the Spring Court—but at a steep cost. Though she now has the powers of the High Fae, her heart remains human, and it can't forget the terrible deeds she performed to save Tamlin's people.
Nor has Feyre forgotten her bargain with Rhysand, High Lord of the feared Night Court. As Feyre navigates its dark web of politics, passion, and dazzling power, a greater evil looms—and she might be key to stopping it. But only if she can harness her harrowing gifts, heal her fractured soul, and decide how she wishes to shape her future—and the future of a world cleaved in two.
A Court Of Wings and Ruin door Sarah J. Maas
Looming war threatens all Feyre holds dear in the third volume of the #1 New York Times bestselling A Court of Thorns and Roses series.
Feyre has returned to the Spring Court, determined to gather information on Tamlin's manoeuvrings and the invading king threatening to bring Prythian to its knees. But to do so she must play a deadly game of deceit – and one slip may spell doom not only for Feyre, but for her world as well.
As war bears down upon them all, Feyre must decide who to trust amongst the dazzling and lethal High Lords – and hunt for allies in unexpected places.
A Court Of Frost and Starlight
Feyre, Rhys, and their close-knit circle of friends are still busy rebuilding the Night Court and the vastly-changed world beyond. But Winter Solstice is finally near, and with it, a hard-earned reprieve.
Yet even the festive atmosphere can't keep the shadows of the past from looming. As Feyre navigates her first Winter Solstice as High Lady, she finds that those dearest to her have more wounds than she anticipated–scars that will have far-reaching impact on the future of their Court.
Geheim Akkoord door Marieke Simons
Als Aisling in een opwelling besluit om op zoek te gaan naar haar verleden, wordt ze herenigd met haar oude buurjongen Thomas. Ze trekt bij hem in en hun vriendschap gaat verder vanaf het punt waar het ooit abrupt stopte.
De muzikale ambities van haar beste vriend zijn onveranderd gebleven. Vanaf de zijlijn geniet Aisling van het beginnende succes van Thomas en zijn band.
Niets lijkt hen in de weg te staan, totdat Thomas' aartsvijand letterlijk op het podium verschijnt. Deze intrigerende jongen brengt meer aan het wankelen dan alleen de zorgvuldig bewaarde geheimen.
Ready Player One door Ernst Cline
In the year 2045, reality is an ugly place. The only time teenage Wade Watts really feels alive is when he's jacked into the virtual utopia known as the OASIS. Wade's devoted his life to studying the puzzles hidden within this world's digital confines, puzzles that are based on their creator's obsession with the pop culture of decades past and that promise massive power and fortune to whoever can unlock them. When Wade stumbles upon the first clue, he finds himself beset by players willing to kill to take this ultimate prize. The race is on, and if Wade's going to survive, he'll have to win—and confront the real world he's always been so desperate to escape.


Goedzo en de Zoeker door Gerd Goris
Op een dag krijgt de eenvoudige huisknecht Goedzo van zijn meester de opdracht naar de stad Zonnaven te reizen en daar zo snel mogelijk met de koning te spreken. De weg naar Zonnaven blijkt echter gevaarlijker dan gedacht. Een bende criminelen zit achter hem aan en hulp moet uit een onverwachte hoek komen om de eenvoudige huisknecht te redden.
Het toeval wilt echter dat hij achter een vreselijk plan komt dat het gehele koninkrijk naar de rand van de afgrond kan brengen. Samen met de koning, zijn magisch begaafde dochter Mira, de jonge vechtjas Joris en de dronkaard Kantatis zijn ze gedwongen om te vluchten voor de macht van de Leugen en zijn trawanten.
De enige hulp om deze groeiende macht te breken, lijkt die van een koppige waterdraak te zijn.
Het gif van de Leugen verspreidt zich echter razendsnel onder de bevolking en heeft nagenoeg iedereen al in zijn ban. Zullen Goedzo en zijn vrienden in staat zijn om deze verschrikkelijke vijand te verdrijven zonder zelf ten onder te gaan?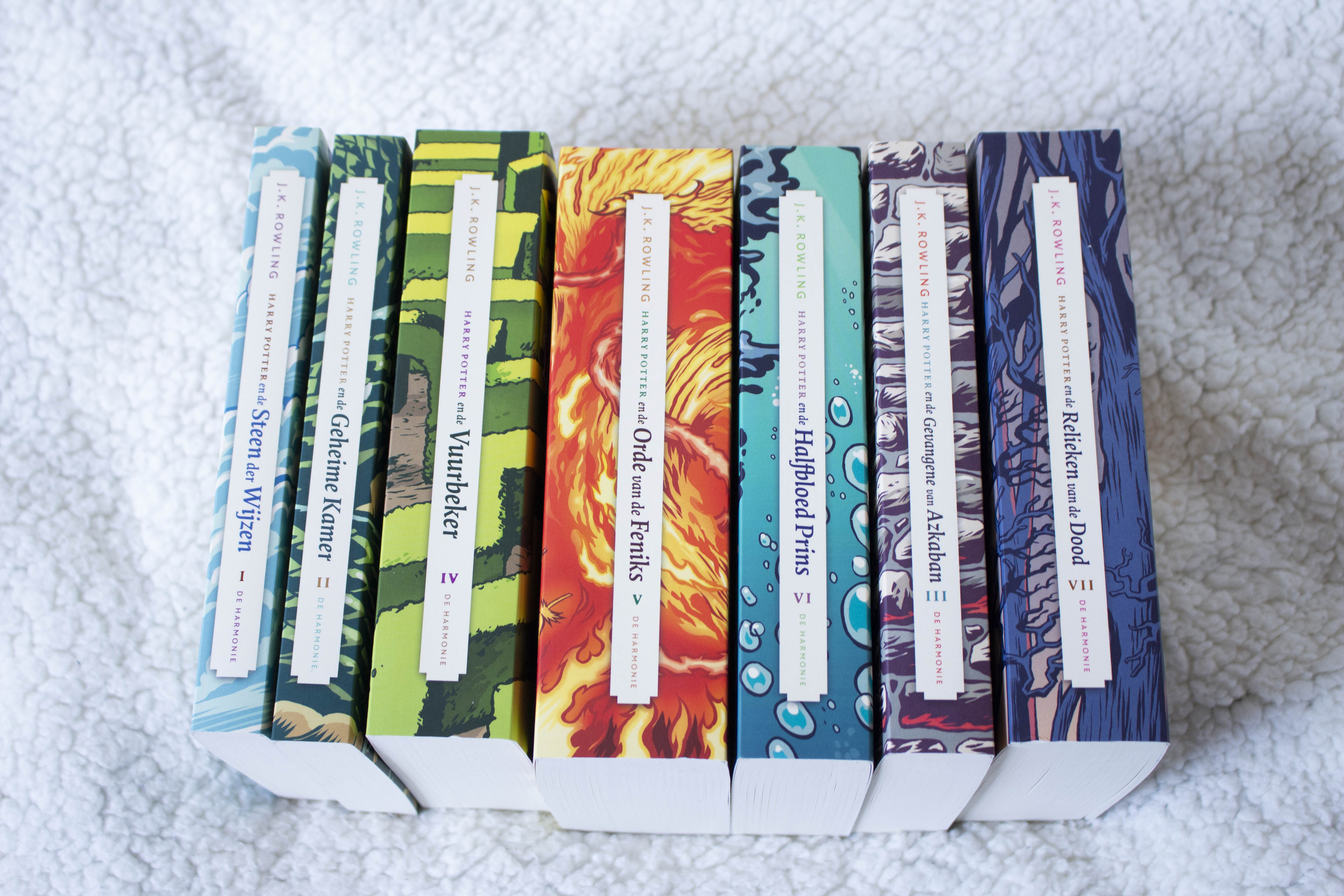 De Hele Harry Potter Serie door J.K. Rowling
Dit keer zitten er ook een paar recensie boeken in mijn Haul lijstje! Namelijk Geheim Akkoord & Goedzo en de Zoeker. Ik vind toch dat ze er bij horen. Daarnaast heb ik de hele ACOTAR serie gekocht en in 1 ruk helemaal uit gelezen. Oops?
Welke boeken heb jij afgelopen maand gekocht?